Exchange at eye level
Why the Clever People Network is so special.
Clever People only wants 100% authentic members—no fake or generated profiles. You should be sure that the people to whom you're writing actually exist.
Why giftedness and neurodiversity are a gift!
Exceptional intelligence and neurodiversity aren't seen as problematic at Clever People, but rather as uncommon strengths and endearing personality traits, blanket terms that cover many abilities.
At Clever People, the focus is on you as a highly gifted or highly sensitive, autistic or synesthetic person with a multi-faceted personality.
Highly gifted and neurodiversely gifted people are very special people. They are inventive, penetratingly direct, strikingly different people who question critically—in short, simply unique and not "normopaths".
Every person desires acceptance, understanding, appreciation, connection, belonging and space for free thinking. That's why Clever People was created: to claim real estate for a unique network for giftedness and neurodiversity. 
Why Clever People is the ideal community for giftedness and neurodiversity!
Clever People consists of three areas: a community for giftedness and neurodiversity, a friendship or dating service for gifted and neurodiverse people, and the expert network for giftedness and neurodiversity.
Here, within a protected environment of discussion forums, you can exchange information about anything that interests you as a highly gifted adult or parent of a highly gifted, highly sensitive or autistic child.
In the forums, you also have the opportunity to exchange critical views on topics or to provide expert knowledge that doesn't necessarily correspond to the mainstream, on topics that are increasingly presented in one-sided or reductive ways by the mass or social media.
Various search criteria allow you to search and find your highly gifted or neurodiverse dream partner, one who shares just your interests and preferences—be it as a friend, life partner, roommate, mentor or intellectual sparring partner (m/f/x), etc.
Clever People—The network with high standards!
Discover unexpected opportunities for connection!
The community for giftedness and neurodiversity offers you the chance to accurately find highly gifted and neurodiverse adults or parents who have highly intelligent children through numerous search filters. For example, are you looking for highly gifted adults with whom you can exchange ideas or build friendships?
Are you looking for other neurodiverse adults who are retrained left-handed?
Are you looking for a creative gifted adult who is interested in photography, politics, design, or blockchain technology?
Are you looking for a highly gifted life partner "on equal footing"?
Are you looking for other parents with highly intelligent or highly sensitive or autistic children with whom you can exchange ideas about schools or support issues without having to explain yourself?
Clever People was created just for you.
And also: Here you'll find special support for special people!
Clear requirements for access
Careful, individualized screening for highly gifted members with or without Asperger's/autism.


High transparency
Every highly gifted member enters the protected area with their real first name.
Minimum age
Highly gifted children under the age of 14 are not allowed to access the discussion forums for security reasons.
Guest Membership
Full "guest membership" for the duration of one year so you can try us out.
Clear rules of conduct
Every member agrees to abide by the rules of conduct
(code of values).
Blocking
Immediate blocking of a member in case of identifiable violation of the rules of conduct.


Privacy protection
Latest security standards and professional software experts working in the background.
Hosted in Germany
Data is hosted exclusively on a server in Kiel/Northern Germany.
Data storage
All other data is stored offline on a
stationary PC.
THE COMMUNITY WITH ITS OWN MASCOT!
Carina Clever
Cleverly made for Clever People, it's our very own cult figure, seagull CARINA CLEVER. How did Carina Clever come to be? Read more here.
You'll see why Clever People has the mascot CARINA CLEVER. We are among our own kind! Exchange on equal footing!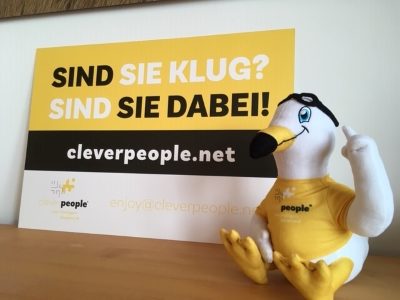 Don't delay! Join in now!
You can register for these memberships immediately: